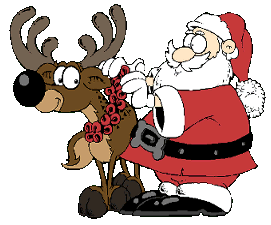 We have 2698 Random Acts Of Kindness So Far!
All of us at XmasFun.com would like to ask a favor of our users. We would like each of you to do one or more Random Acts of Kindness this holiday season. After you've done your Random Act, we'd like you to come back here and share your experience with us! It can be a small act, like smiling at your grumpy neighbor or paying the toll for the next car behind you at the toll booth...or perhaps something bigger! We don't care, we just want to hear your stories and share them with our site users. And please don't be timid about sharing the smallest of kind acts...it's the little changes that make the world a better place!
---
---
ID: 13912
12/2/2016 10:24:48 AM. - Margaret - New York
On Monday as I was pulling into the parking lot at work, I saw a man walking around the parking lot looking down as if he were searching for something. I've seen this man before lugging his comforter and clothing around in a large bag and sleeping on the church grounds and the school grounds on many a nights. This particular morning, my heart told me that he was searching for money on the ground perhaps to buy breakfast. So, I got back into my car went to the nearest Subways bought a sandwich and a bottle of water and returned to give it to him. By the time I made it back, he was gone. I drove around a few minutes to see if I spotted him but he was no where to be found. I then called my son and asked my son to find him since I needed to get to work. Unfortunately, we never did find him and haven't seen him since. I pray that he is somewhere safe, warm and that wherever he is, he is being fed.
---
ID: 13911
12/1/2016 2:57:47 PM - vivian - huntsville
i helped my freind get in the spirit
---
ID: 13910
11/29/2016 10:17:51 PM - Tom - Des Moines, Iowa
I was at a tailor shop in south Des Moines recently. I saw a notice that the shop was going to close for a month. I asked the wife if they were going on vacation. She told me they (wife & husband) were going on a Mission Trip to Thailand. I gave the wife $50. I had not noticed that someone else had come in the store. He also gave the couple money for their trip. So nice to see one act prompt another act. We are all connected.
---
ID: 13909
11/29/2016 11:17:17 AM. - Stephanie G - Memphis, TN
On Veterans Day, Students created Veterans day cards for those who served. We were able to give Veteran Day Cards for over 60 veterans. Students were so helpful and are looking for other opportunities to help individuals.
---
ID: 13908
11/26/2016 3:07:54 PM - Samyah - Stoughton, Massachusetts
When I was at school, I saw my friend Elisabeth carrying a lot of books in her hands. I saw someone running so fast that Elisabeth's books were knocked out of her hands. I went over and helped her pick up her books.
---
ID: 13907
11/20/2016 8:25:26 AM - nat - kentucky
i gave all the stuffed animals that i didn't need/want anymore (witch was about 50) and gave it to a homeless shelter-im 13 years old :)

---
ID: 13906
11/5/2016 2:22:03 PM. - Claire - U.S.
I was at school when I saw this one boy who T though t was cute but and he thought I was cute but I didn't know that at the time. Anyway he looked sad so I asked him what was wrong(he didn't know me at the time nor did I know him but I knew that he was in one of my classes). He said that he had gotten into some trouble with some friends but that he did not care, so I said that I was sorry and that he should use his head next time. Well I followed him on Instagram and he "DM"ed me and I told him that I liked him. The next day one of him and mine guy friends found out that I liked him and the guyfriend told me to ask him out. (The guy that I liked was right behind me a the guy friend was sitting beside the gut that I liked so he had heard my guy friend say this.) I ask the guy out and he said "I don't know will you go out with me?" then I said "Yea duhhhhhhhhhh" and now we have been going out for two months!!!!!!!! Also, com e to find out he's liked me sinced the 3ed grade.
---
ID: 13905
10/26/2016 2:56:19 PM - Talli - USA
i gave toys to a toy drive at my church for the less fortunate
---
ID: 13904
10/21/2016 8:47:00 AM - Evania - My Happy Place
Last summer I was having dinner at a restaurant with some family. About five minutes after we had left, our server found me and returned the money I didn't even realize I had dropped! I was so surprised and thankful.
---
ID: 13903
10/16/2016 4:55:48 PM - funTimesChristmas - US
we put on a Christmas play for our entire family.
Helped out with a food/clothing drive
---
---