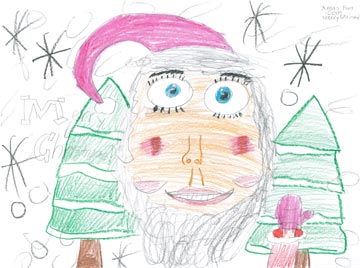 This picture was drawn by our good friend Jessica G.
from Rancho Santa Margarita, California.
How well do you know Santa Claus?
Click on the green bars to see the answers!
---
Santa Claus is also know by his Saint name. What is it?
Saint Nicholas!
Where does Santa live?
At the North Pole!
What night does Santa deliver his gifts?
Christmas Eve!
How many reindeer usually pull Santa's sleigh on a clear night?
8
Dasher, Dancer, Prancer, Vixen,
Comet, Cupid, Donner and Blitzen
One foggy Christmas Eve, Santa needed help guiding his slegh through the stormy night. Who did he ask for help?
Rudolph the Red Nosed Reindeer!
Santa has a "Naughty and Nice" list. How many times does he check it?
Twice!
Santa's has a favorite snack. Children often leave it out for him on Christmas Eve. What is it?
Milk and Cookies!
Who makes the toys that Santa delivers?
Elfs!
---
How did you do? Try some more Christmas Trivia questions. Or click here to reset this page.