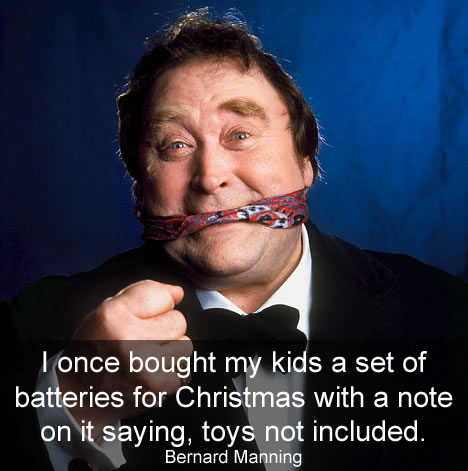 Never catch snowflakes on your tongue until all the birds have gone south for the winter!
---
Don't you hate that awkward moment when Santa Claus has the same wrapping paper as your parents!
---
Remember, at Christmas time it's not how big your tree is, or what's under it. It's who's around it that counts!
---
Maybe Christmas, the Grinch thought, doesn't come from a store….
Dr. Seuss
---
The two most joyous times of the year are Christmas morning and the end of school.
Alice Cooper
---
Mail your packages early so the post office can lose them in time for Christmas
Johnny Carson
---
I once bought my kids a set of batteries for Christmas with a note on it saying, toys not included.
Bernard Manning
---
What I don't like about office Christmas parties is looking for a job the next day.
Phyllis Diller
---
T'was the night before Christmas, when all through the house, not a creature was stirring, not even a mouse.
Clement Clark Moore
---
Once again, we come to the Holiday Season, a deeply religious time that each of us observes, in his own way, by going to the mall of his choice.
Dave Barry
---
Nothing says holidays, like a cheese log
Ellen DeGeneres
---
I wrapped my Christmas presents early this year, but I used the wrong paper. See, the paper I used said 'Happy Birthday' on it. I didn't want to waste it, so I just wrote 'Jesus' on it.
Demetri Martin
---
I haven't taken my Christmas lights down. They look so nice on the pumpkin.
Winston Spear
---
Sending Christmas cards is a good way to let your friends and family know that you think they're worth the price of a stamp.
Melanie White
---
The principal advantage of the non-parental lifestyle is that on Christmas Eve you need not be struck dumb by the three most terrifying words that the government allows to be printed on any product: "Some assembly required."
John Leo
---
The office Christmas party is a great opportunity to catch up with people you haven't seen for twenty minutes.
Julius Sharpe
---
There is nothing as mean as giving a child something useful for Christmas!
---
The Holidays are the one time you get to experience all the excitement of rush hour traffic in the mall parking lot.
Melanie White
---
This mall Santa seems insulted that I put down that protective paper before sitting on his lap.
Conan O'Brien
---
Keep you friends close, your enemies closer, and receipts for your major purchases.
Bridger Winegar
---
On Saint Patrick's Day I pretend to be Irish. At Christmas I pretend to be good.
---