It's the first Christmas without Grandma and a difficult time for the family, until Grandpa (James Earl Jones) decides to share a story with his ten-year-old grandson Terence.
This video is provided by Hulu. Once the video has started, there will be an icon available in the lower right hand corner of the Hulu video player that will allow you to watch it full screen.
---
Other Videos you might enjoy:
Feature Films
Christmas Movie
Another version of the classic "Scrooge" story.

Christmas Movie
Drew Barrymore and Keanu Reeves star in this heartwarming holiday musical.
Christmas Movie
Heartwarming holiday musical about a little girl's adventures in a magical place called Toyland.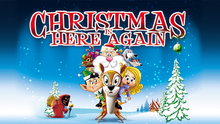 Christmas Special
When the evil Krad steals Santa's toy bag he crushes the holiday spirit- and over time, the world's children forget all about Christmas. Now, a wide-eyed orphan and her band of friends will try to stop Krad from destroying Christmas!

Christmas Movie
Starring the voices of Jason Alexander, Don Knotts and Shelley Long. A family learns the best gifts come from the heart.

This is a full-length YouTube featured (1 hour, 48 minutes long) video of The Nutcracker by Pyotr Ilyich Tchaikovsky, conducted by the legendary conductor Evgeny Svetlanov and choreographed by Peter Wright after Lev Ivanov and released by the BBC.
Christmas Movie
Full length version of a classic tale!
Christmas Movie
A grumpy and heartless miser discovers at Christmas the meaning of a good life with the help of ghosts who on Christmas Eve tell him the truth about his character and its shortcomings.

Christmas Movie
The 12 Dogs of Christmas is a fun, heartwarming story featuring a diverse canine cast of over 101 pooches, perfect for all those who love dogs, kids and Christmas.

Christmas Movie
With a little advice from kindly Mrs. Santa Claus, three orphans give the town the most amazing present anyone could imagine: Christmas caroling!
---